ELMA Partners at Nouvelle Prague Showcase Festival
Prague, Czech Republic, November 2016
Nouvelle Prague is the first-ever showcasing festival in the Czech Republic, primarily focused on overseas bands. Held in the Staropramen Brewery in the heart of the City, with its central European locations, terrific flight connections and storied history, Nouvelle Prague is an ideal location for a boutique, exklusive and targeted showcase event.
Showcase festival and music conference Nouvelle Prague, which was awarded soon after its 2014 premiere the Best New Showcase" award at Yearly Music Convention Awards (YMCA) in UK, has received this prestigious music industry award again in 2015. In a poll of music professionals who attended The Great Escape Festival in Brighton, in May, Nouvelle Prague won the, Best Delegates category.
The 4th edition of the Nouvelle Prague music conference and showcase festival focused on the CEE region, and brought together the leading minds in the European and International music industry to discuss and promote its development through entrepreneurship, professional networks, and vocational education and training. The program 2016 consisted of panel discussions / presentations, in-depth coaching sessions, and one-on-one speed meetings with music industry professionals.
C0-founders of the European Live Music Association – Mr Vincenzo Spera, Prof. Jens Michow, Georges Perot and Mr Marton Naray participated in the introductory panel session on the 4th of November, a panel where they underlined the need of a common strategy for the sustainable development of the live music Sector at European level.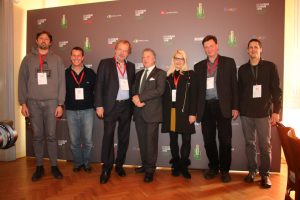 Along with them, Mr Karel Bartak (Head of Unit of the Creative Europe programme), Mr Matjaž Manček, (MENT Showcase –Conference, Ljubljana) and Mrs Dijana Lakuš  (PAF!, Music Glue) discussed  the critical necessity of networks, personal connections, partnerships and co-promotion and the consequent need for alliances based on synergies in order to build the ultimate resource to nurture, grow and sustain live music throughout all member states.
It was also an opportunity to present the goals of the European Live Music Association, an EU initiative aiming to build the ultimate resource to nurture, grow and sustain live music throughout all member states.